1. Knit yourself a snood (scarf + hood = snood).
This ingenious, yet simple infinity scarf can be styled at various lengths and even worn, as the name suggests, as a hood!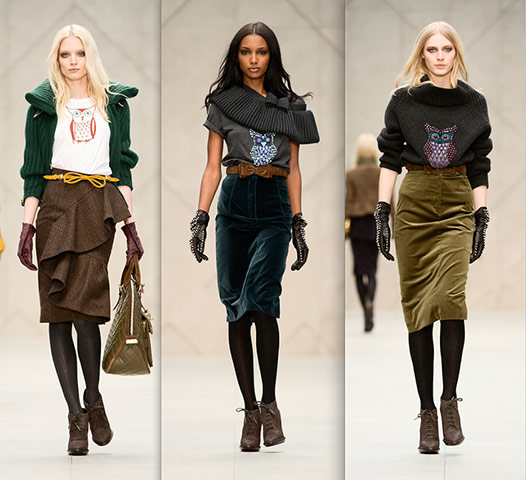 2. Wise up: wear an owl
The owl is the motif of the winter catwalk collection, and has exploded on the high street. So easy to make your own. The owl has to be the easiest bird to draw. Use an old T-shirt or a plain American Apparel one as your base, draw on your owl with fabric pens. Leave it there, or embellish with wooden beads and buttons for the full homespun look. Easy!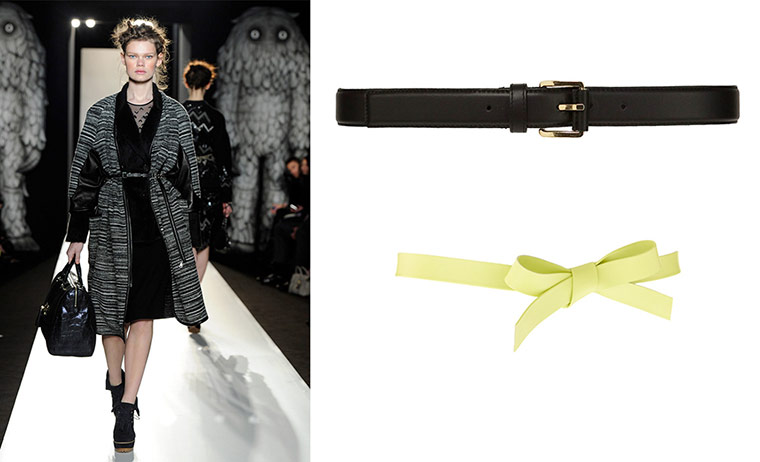 3. Belt up
One trend that stood out at internasional fashion weeks were a belt-cinched waist. Almost any outfit can be styled with a skinny belt (you will definitely need one if you are thinking of going down the bulky muppet fur coat route). Unlike other trends, this involves little effort outside buying a belt/digging one out of your wardrobe and is easy to put in to practice asap. The waisted belt is still on the must-have list. Wear it over your fitted winter coats and jackets to give them an instant winter update.
4. Femine/Masculine
This season, there is a fascination with both ultra feminine, as well as masculine-styled fashion. Combine both influences in an easy way by wearing a girly winter dress with rugged worker boots.
5. Don't worry about matching your accessories anymore
.
With the diverse choice in easy-to-coordinate neutrals and naturals for the season, like winter greys and leather browns, your bag, belt, and shoes can work together in a complimentary rather than 'matchy-matchy' way.
6. Winter fashion is all about layering.
Layer socks over stockings with skirts and slouchy knitwear cardigans over dresses and blouses.
7. Red and nude
There is a lot of talk regarding the return of brights for winter. One of the most eye-catching seasonal colours is scarlet red. Note that the newest way to wear colour is to combine it with a neutral, for example, a nude tone.
8. Please report for duty this season!
Military influences are key. You can be overt with this trend, by wearing the newest in military-styled jackets, or wear it subtly with casual items in a shade of army green.
9. Fashionable flats
Give your feet a well-deserved break by stepping into some fashionable flats like masculine-style brogues, pretty pumps or tailored loafers.
10. '70s style is back!
Represent this beloved boho look by wearing flare pants with pussy-bow blouses and maxi skirts with slouchy knitwear. Oh, and don't forget our oh-so-'70s floppy felt wide-brimmed hat.
11. Leggings - still a staple item
Leggings, which over the past couple of seasons were considered to be a fashion item, have very much become a staple piece for every woman. We simply love them, as they are relatively inexpensive and will stretch to fit, even if you miss out on a couple of sessions at the gym.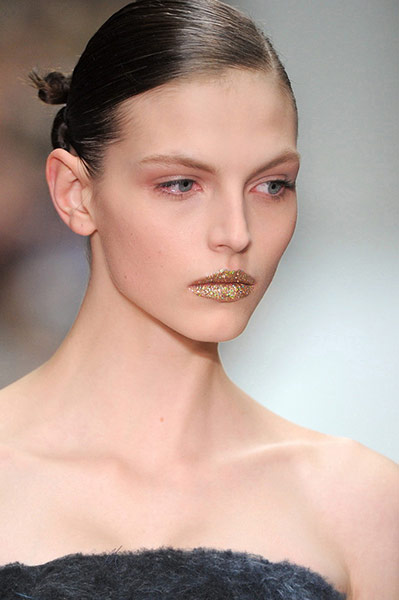 12. Glitter goddess
One of my favourite makeup trends from London was the explosion of glitter. OK, so a sparkle lip doesn't have a whole lot of catwalk-to-high-street crossover – but glitter will be huge for winter. Start now with nail varnish. And if you're feeling brave, get the full glitter-lip look.
12. Accross the body bag
With women being known for their advanced multi-tasking abilities, the across-body bag is every working woman's ideal bag. Wear it across your body, or shorten the strap to a hand-held length. Two different looks, one bag.
13. Bright colors
The bright colors we saw last summer, keep the coming winter season in fashion. Yellow, orange, cobalt blue, teal, purple … Combine these colors with gray or black or go for an outfit in a single, bright color.